Glaucoma Symptoms: What to Look for and When to Address Them
Glaucoma symptoms are the best indicator of disease progression. Glaucoma is the main cause of irreversible blindness across the globe and affects over 2.7 million Americans over the age of 40 (nearly two percent of the US adult population). Each one of these individuals has their own unique struggles with symptoms that impact their physical and mental health and their quality of life. While most understand this condition as a disease that affects and impairs vision, many are unfamiliar with the main symptoms of glaucoma and what causes it. Understanding glaucoma symptoms, how they occur, how they progress, and how to treat them can help you or your loved one better manage your condition overall.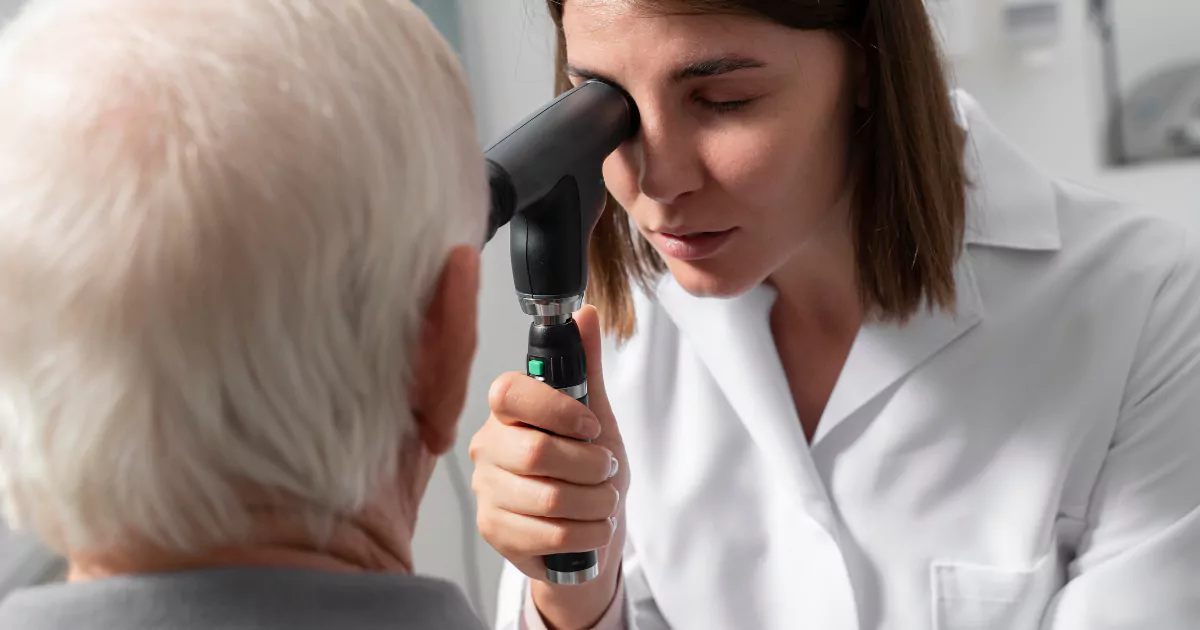 What Are the Main Causes of Glaucoma?
Glaucoma usually occurs when the optic nerve starts to erode and create blind spots in your field of vision; this damage usually corresponds with increased intraocular eye pressure, though doctors are still unsure of the exact nature of this association. This pressure occurs when the eye is unable to properly drain fluid through a tissue known as the trabecular meshwork. Failure of the eye to properly drain fluid results in the increased build-up pressure and subsequent nerve damage. Glaucoma can be hereditary, and there are multiple types:
Open-Angle Glaucoma – Occurs when the trabecular mesh network is blocked, but the iris and corneal drainage angles remain open. It is the most common type of the disease and often occurs at a gradual pace.
Normal-Tension Glaucoma – Occurs even with normal eye pressure. While the exact cause is unknown, possible reasons may include limited blood flow or increased sensitivity of the optic nerve.
Pigmentary Glaucoma – Caused by the pigmentary fragments breaking off into the iris and clogging drainage canals in the tissue. This could be exacerbated by physical activity, such as running or jogging.
While glaucoma most commonly affects individuals over 40, it is possible for children to contract the disease in limited circumstances. In these cases, glaucoma is often linked to an underlying medical issue, occurs at birth, and will worsen in the first few years of life.
Common Symptoms of Glaucoma
Each type of glaucoma has its own symptoms. Being mindful of symptoms can help determine which type of glaucoma you have.
Open-Angle Glaucoma Symptoms
Sporadic Blurry or Blind Spots
Worsening Peripheral Vision
Possible Tunnel Vision in Late Stages
Angle-Closure Glaucoma Symptoms
Serious Headache or Migraine
Severe Pain in the Eye
Nausea and vomiting
Blurred or Patchy Vision
Halos around Bright Spots
Redness of the Eye
Risk factors for glaucoma often include but are not limited to age (over 60), increased eye pressure, being Black or Hispanic or Asian, family history, diabetes, heart disease, hypertension, extreme nearsightedness, or farsightedness.
When You Should Talk to Your Doctor
Consult your physician as soon as possible after you start to notice these glaucoma symptoms. You may be able to manage or mitigate risk through regular eye exams, proper safe exercise, wearing eye protection, and more. Talk to your doctor about exercises and activities that can help decrease eye pressure, as well as lifestyle tips for safe exercise and medication adherence.