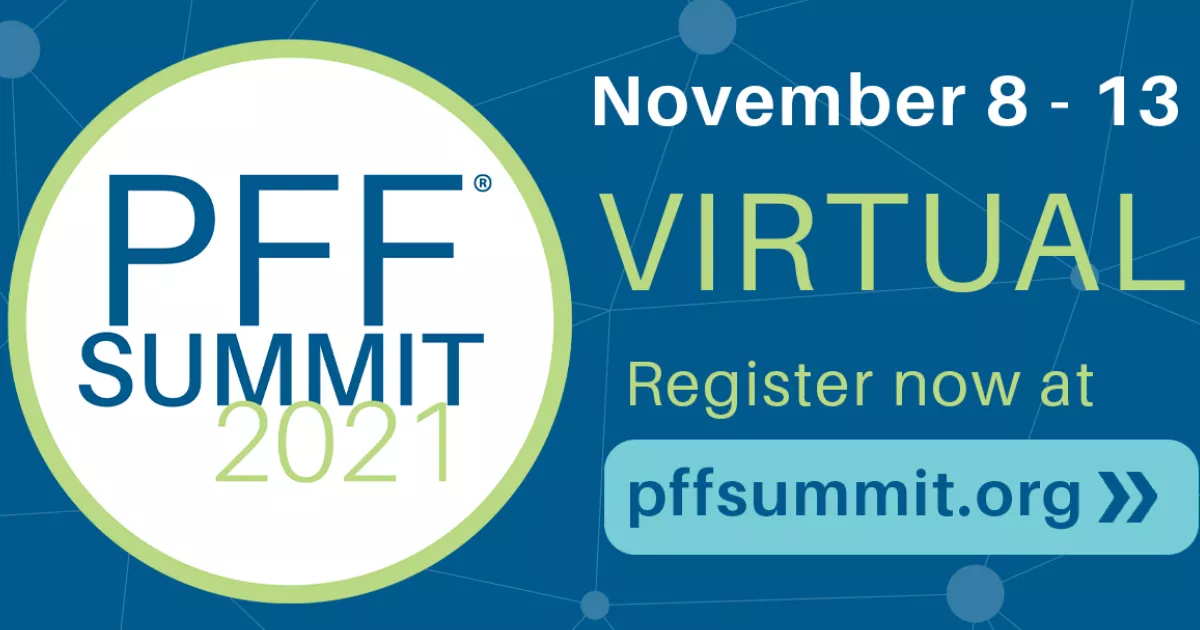 Get Involved and Show Your Support at the 2021 Virtual PFF Summit
Held November 8-13, the PFF Summit is the world's largest pulmonary fibrosis conference. This year, experience over 30 unique sessions from your home or office. Make sure to stop by the Responsum for PF virtual booth to say hello and to learn more about our mission of supporting and advocating for the PF community!
About the PFF Summit
PFF Summit 2021 marks the sixth biennial global healthcare conference on pulmonary fibrosis. States the PFF, "The goal of the Summit is to foster a collaborative environment to improve education and awareness of PF and to identify new approaches to treat, and ultimately cure, this devastating disease."
The PFF Summit offers live, interactive sessions that feature top experts presenting the latest information about care and treatments for individuals with PF. PF patients, their caregivers, transplant recipients, and those who have lost a loved one to PF are all invited to participate.
The conference also offers innovative continuing medical education (CME/MOC) for healthcare professionals and continuing education (CE) for nurses, respiratory therapists, and pharmacists in accordance with the Essential Areas and policies of the Accreditation Council for Continuing Medical Education (ACCME).
2021 Programs and Keynote Speakers
Highlights of the many sessions available to registrants are as follows:
Monday, November 8
Pulmonary Fibrosis 101 & Introduction to the PFF
Introduction to the PFF Registry & the Care Center Network
Familial Pulmonary Fibrosis & Genetic Counseling
Tuesday, November 9
Plenary Session: Beyond Drugs: Therapies to Improve Quality of Life
Clinical Trials Innovation Series
Dealing with the Cough
Wednesday, November 10
Exercise, Education, and Social Support
Research Updates: COVID-19 and More
Clinical Trials Innovation Series
Thursday, November 11
Supplemental Oxygen 101
Preparing for the Future
Idiopathic Pulmonary Fibrosis: A Patient's Journey, A Physician's Perspective
Friday, November 12
Plenary Session: Moving PF Care Forward: Updates from Ongoing Research
PFF Scholars: Presentation of Novel Projects by Early Career Investigators
How to Navigate Telehealth
Saturday, November 13
When PF Worsens: Common Cold, Influenza, COVID-19, or Worsening PF?
The Lung Transplant Experience
Therapies Under Investigation for PF: What's Coming Down the Pike
Keynote speakers for the 2021 PFF Summit are Gary Gibbons, M.D., Director of the National Heart, Lung, and Blood Institute at the National Institutes of Health, who will discuss current PF research and Kathleen O. Lindell, R.N., Ph.D., Associate Professor and Mary Swain Endowed Chair in Palliative Care Health in the College of Nursing at the Medical University of South Carolina, who will discuss preparing patients and caregivers for end-of-life care.
Other speakers will present on:
Integrative therapies and mental health
Nutrition and quality of life
Pulmonary rehabilitation benefits for people with interstitial lung disease (ILD)
The PFF Summit Social
More than a learning experience, PFF Summit 2021 also allows participants to meet other people in the PF community. On Thursday, November 11 at 6 p.m., everyone is encouraged to join the PFF Summit Social that will feature:
Music from the Oh Yeahs
Cooking with chef Halee Raff
Mixology with Adam Daniels of Chicago's Revival Food Hall
A sky show from the director of Chicago's Adler Planetarium
Improv for better communication
A virtual yoga chair class
Trivia with PFF staff
A pet party meet and mingle
Refer to the PFF Summit Social flyer for details and be sure to RSVP for cooking and mixology.
To Register for the PFF Summit
To register, go to https://secure.qgiv.com/for/pfsum202reg. Registration will stay open throughout the conference.
Registrants will receive a special PFF "swag bag" while supplies last, to be mailed out in November.
Registrants should note that all sessions will be available for viewing on demand for three months after the Summit.
Frequently asked questions
A list of frequently asked questions, including logging in to the conference and dealing with any technical difficulties, can be found at: https://www.pulmonaryfibrosis.org/pff-summit/about/faq.
For more information on PFF Summit 2021, including an archive of past conferences, go to https://www.pulmonaryfibrosis.org/pff-summit. General questions about the Summit can be directed to summit@pulmonaryfibrosis.org or the PFF Help Center at (844) 825-5733.
Partnering with PFF to Support People Living with Pulmonary Fibrosis
Responsum Health is honored and grateful to be part of this inspiring and potentially game-changing conference. Every day, on our Responsum for PF platform, we connect with individuals struggling with this disease, as well as their loved ones and caregivers. We're constantly reminded of the urgent need for enhanced research and mobilization toward a cure for pulmonary fibrosis. Events like the PFF Summit are incredibly impactful in their ability to raise awareness, education, support, and funding. Stop by our virtual booth to learn more about our platform, our work with PFF, and our commitment to helping those impacted by this condition.