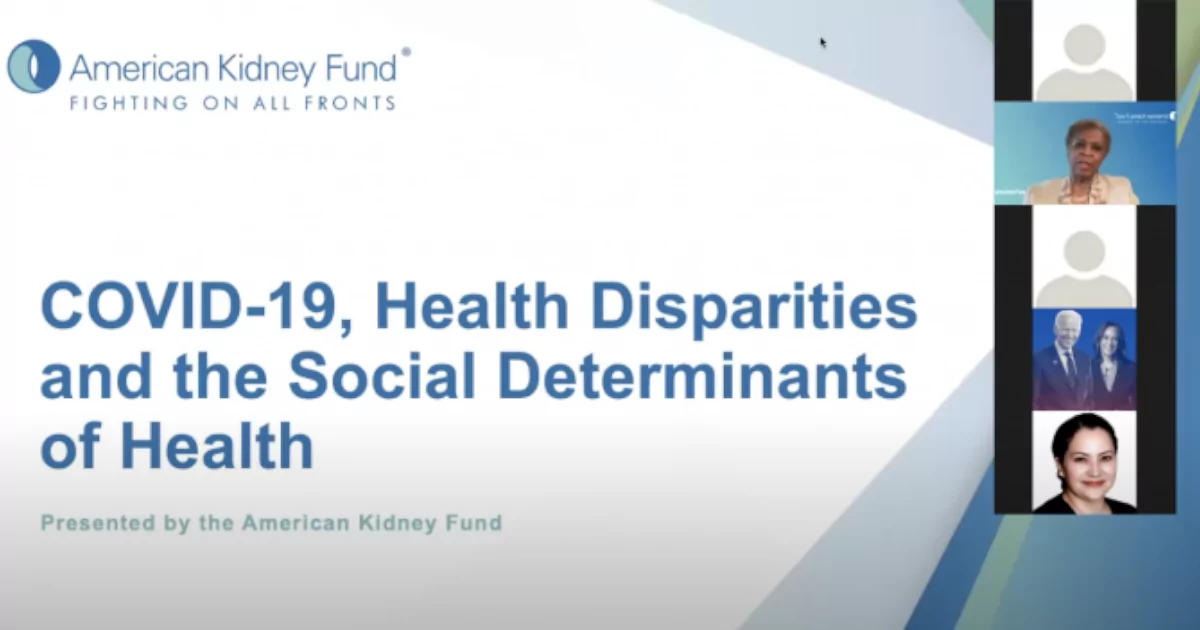 Congresswomen and Health Professionals Explore Health Disparities in the Age of COVID-19
During Kidney Action Week, the American Kidney Fund (AKF) hosted a live Congressional briefing on September 16 that focused on factors that have contributed to the disproportionate impact of COVID-19 on communities of color.
The briefing featured Congresswoman Nanette Diaz Barragán (D-CA-44) and former Congresswoman Donna M. Christensen, M.D. (D-VI), in addition to other prominent guests, such as:
Sindy Benavides, CEO of the League of United Latin American Citizens (LULAC)
Oliver Brooks, M.D., Former President of the National Medical Association and Chief Medical Officer (CMO) of Watts Healthcare
Eduardo Sanchez, M.D., M.P.H, FAAFP, Chief Medical Officer (CMO) for Prevention of the American Heart Association
LaVarne A. Burton, President and CEO of AKF, as well as host of the briefing
The session, titled "COVID-19, Health Disparities & The Social Determinants of Health," explored the health inequities among low-income populations during the current pandemic. Lack of access to healthcare, poor housing conditions, food insecurity, and lack of educational opportunities are a few factors disrupting a person's chance for achieving optimal health.
Impact of socioeconomic status on healthcare
African Americans and Latinos are 70% more likely to be diagnosed with diabetes than their white counterparts. Because of their socioeconomic status (SES) often putting them at a disadvantage, they may also be unable to properly manage the disease. One such way of doing so is through a good diet, which typically costs more than a less healthy meal.
How does this information relate to kidney disease? Diabetes is one of the biggest causes of kidney failure. Without access to transportation to see a doctor—or to healthcare altogether—patients are less likely to catch kidney dysfunction early on and prevent the disease from worsening, which could lead to more extreme consequences.
To address these health disparities, U.S. Rep. Barragan has sponsored a piece of legislation, titled "Improving Social Determinants of Health Act of 2020." This legislation would give the Centers for Disease Control (CDC) the funds needed to create a program to focus on social factors impacting healthcare.
Within this program, the CDC would establish a grant program for local, state, territorial, and tribal agencies to tackle these issues. They would also provide awards to nonprofits and educational institutions that pursue related research on the impact of SES on healthcare access that would lead to best practices.
COVID-19 as a lens into health disparities
The COVID-19 pandemic has provided researchers with a great opportunity to explore the impact of SES on the diagnosis, risk factors, and treatments of coronavirus in real-time.
Some of the known risk factors for severe cases of COVID-19 include:
Chronic kidney disease (CKD)
Obesity (major risk factor for CKD)
Hypertension (major cause of CKD)
Type 2 diabetes (major cause of CKD)
Looking at the breakdown of mortalities caused by the coronavirus, racial disparities are clear:
1 in 1,450 Black Americans has died.
1 in 1,950 Indigenous Americans has died.
1 in 3,000 Latino Americans has died.
1 in 3,350 Non-Hispanic White Americans has died.
Some of the socioeconomic factors that may contribute to these alarming differences in mortality rates include:
Employed as an essential worker
Crowded, substandard housing conditions that make it hard to socially distance
Lack of insurance
Living in areas with poor air quality and high levels of pollution
Undocumented residency
Solutions proposed by medical professionals
Potential remedies to these inequities, according to Dr. Sanchez, might include healthcare for all and access to technology for the ability to participate in telemedicine for medical care and public health. Dr. Brooks also put the spotlight on racial bias as an area for doctors to explore within themselves in order to improve care—specifically cultural and social differences when making diagnostic and treatment plans. He noted the data shows that Black patients treated by Black doctors typically have better outcomes.
According to Benavides, "It's important for us to meet the community where they are. We have a lot of work to do to stop the gap." It is important for diverse voices to be heard and to be a part of important policies that prioritize fixing health inequities, to be able to track data related to these policies and use this data to formulate programs that better impact our communities, she remarked.