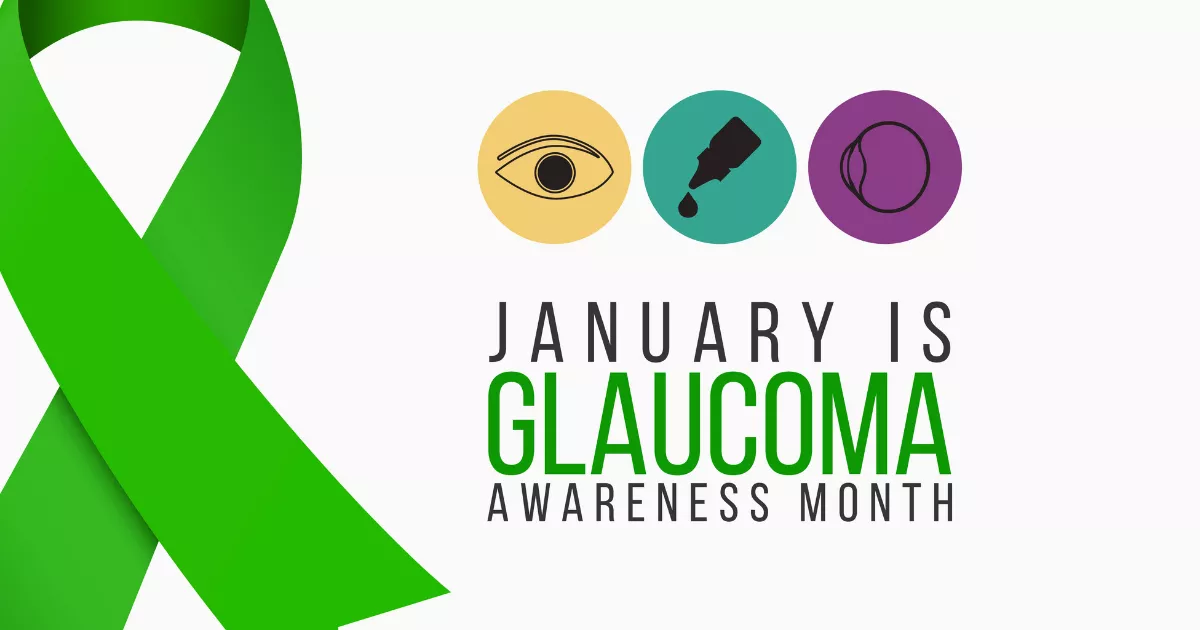 January Is Glaucoma Awareness Month. Get Involved and Show Your Support!
Glaucoma Awareness Month is this January and the nation's oldest, non-profit eye health organization is leading the effort. Founded in 1908, Prevent Blindness is the "nation's leading volunteer eye health and safety organization dedicated to fighting blindness and saving sight." The organization offers patients and caregivers a variety of free resources to help educate and build public awareness of one of the leading causes of preventable blindness.
What Is Glaucoma?
According to the National Eye Institute, glaucoma is a general term for multiple eye diseases that can damage the optic nerve, a bundle of nerve fibers that sends information to the brain, causing vision loss and blindness. Glaucoma typically affects a person's peripheral (side) field of vision first and can lead to "tunnel vision," in which a person can only see what is directly in front of them.
More than three million Americans have glaucoma. The disease mostly impacts adults, but can also affect children. To bolster awareness of children's unique eye health issues, Prevent Blindness has dubbed 2022 The Year of Children's Vision.
Glaucoma in Children
The American Association for Pediatric Ophthalmology and Strabismus (AAPOS) describes how childhood glaucoma can be classified by the age of onset:
Congenital glaucoma exists at birth.
Infantile glaucoma appears between one and 24 months.
Juvenile glaucoma refers to disease onset after age three.
About one in 10,000 children are born with primary congenital and primary infantile glaucoma, explains the AAPOS. But children's glaucoma symptoms are not the same as adults.
Signs of congenital glaucoma to watch for include:
Excessive tearing
Large eyes
Cloudy corneas
Avoiding bright light or squeezing eyelids
Symptoms and signs of juvenile glaucoma to watch for, or a child may communicate, include:
Vision loss
Difficulty adjusting to darkness
Eye pain or headache
Excessive blinking or squeezing of eyelids
Frequent red eyes
Expert Advice on Glaucoma
Glaucoma expert Constance Okeke, M.D., MSCE of Virginia Eye Consultants/CVP says glaucoma can happen at any point in life. Because its symptoms typically appear gradually, the disease is nicknamed "The Sneak Thief of Sight."
"The key to preventing significant vision loss from glaucoma is to educate ourselves on the disease and to make sure both adults and children are diagnosed and treated early," she advises.
Knowledge Is Power!
Dr. Okeke will be appearing with Prevent Blindness President and CEO Jeff Todd in a new installment of the Focus on Eye Health Expert Series. A well-regarded ophthalmologist, Okeke specializes in glaucoma and cataract surgery and has pioneered micro-invasive glaucoma surgery techniques. She is extensively published in scientific literature and is the author of The Glaucoma Guidebook, written for patients, due out in the Fall of 2022. Prevent Blindness offers a full suite of education and support resources on glaucoma and vision loss, including financial and quality-of-life support.
Invite Others to Join the Glaucoma Community during Glaucoma Awareness Month!
Prevent Blindness has partnered with Responsum Health to offer Responsum's no-cost resource, The Glaucoma Community, now with more than 1,800 members. Also, with a Facebook page, The Glaucoma Community provides financial assistance resources, support groups, a chat feature, a personalized newsfeed, and informative disease and eyecare content in seven languages.