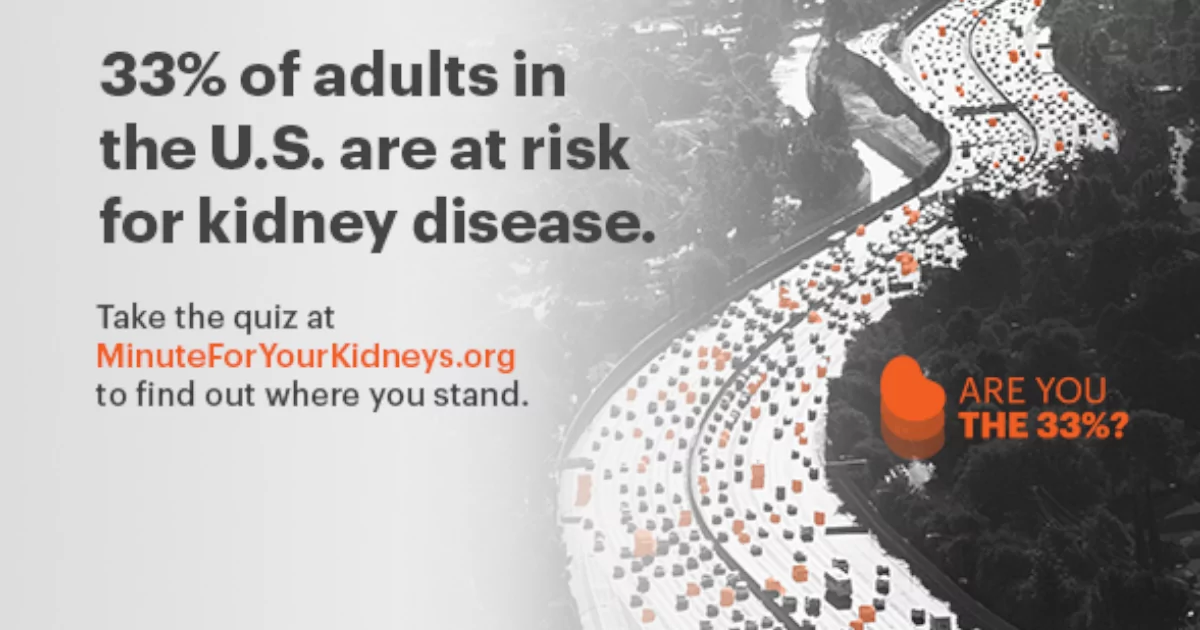 National Kidney Month 2021: Spreading the Word About Kidney Disease
Today marks the first day of National Kidney Month 2021, celebrated each March—a time to raise additional awareness for chronic kidney disease (CKD). According to the National Kidney Foundation (NKF), this disease affects "an estimated 37 million people in the U.S. (15% of the adult population; more than 1 in 7 adults)." Moreover, the NKF states that roughly 90% of people with CKD don't even know that they have it.
Of those who do, however, regular screenings and early detection are crucial to managing CKD and slow down its progression and potential complications. Because of these potential complications, the NKF launched a new campaign, called "Are You the 33%?," to draw attention to the link between type 2 diabetes and CKD. The website allows you to check your risk of developing kidney disease with a one-minute quiz.
Know your risk: The importance of early detection
In addition to promoting the easy online screening quiz, education is key. This includes learning and sharing information on what signs and symptoms to look out for and how to protect your kidneys through lifestyle changes. Those who fall into a high-risk category—information that can be obtained from the aforementioned quiz, if not already known—should be screened for kidney disease by their doctor.
"Millions of adults in the U.S. are walking around with kidney disease and don't even know it. And if you have type 2 diabetes you are at increased risk for developing kidney disease," said Kevin Longino, CEO of the NKF and a kidney transplant patient, in a press release on National Kidney Month. "Having kidney disease also puts you at greater risk of developing life-threatening complications from COVID-19, so it's really important that people go to our one-minute quiz and find out about their kidney health."
Even if you don't have any of the major risk factors, it's important to note that there are also non-medical reasons you can develop kidney disease. These include:
Where you live
Where you work
What you eat
How much physical activity you get
Your access to necessary medical care
How to get involved in National Kidney Month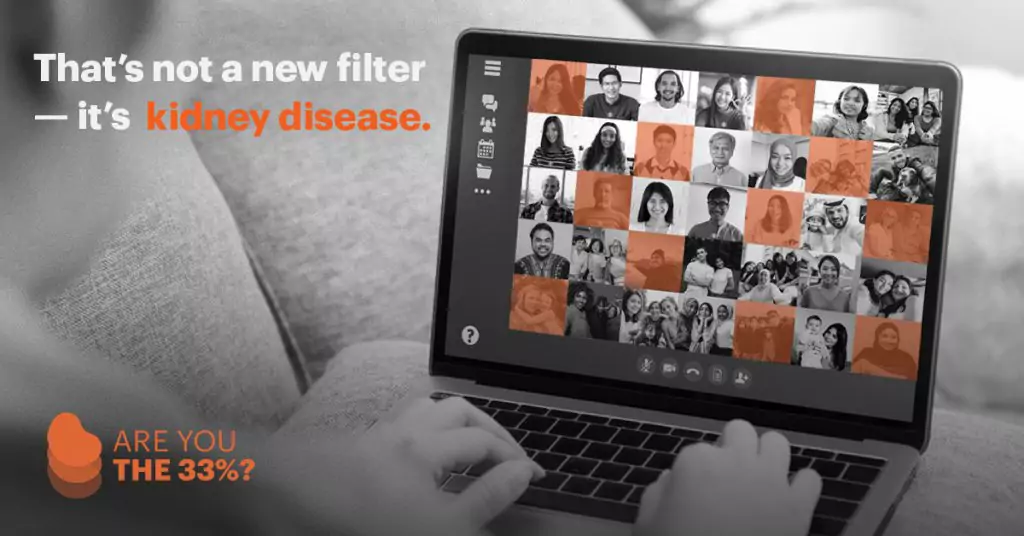 As the world continues to stay home and socially distanced during the current global COVID-19 pandemic, the best way to participate in National Kidney Month is through your social media. The NKF has prepared a comprehensive online toolkit that is full of materials to help you get the message out, including:
Ads, posters, PSAs, and videos
Sample Facebook posts and tweets
Headers for social media
Zoom backgrounds
Ideas for social media influencers
An email signature
Why kidney health matters
Your kidneys support many different systems throughout your body and help:
Regulate your blood pressure and fluid levels
Remove wastes from your blood
Activate vitamin D for bone health
Balance minerals in your bloodstream
Direct the production of red blood cells
For this reason, the NKF, American Kidney Fund (AKF), and National Institute of Diabetes and Digestive and Kidney Diseases (NIDDK) recommend the following tips to maintain optimal kidney function and support kidney health:
Exercise regularly.
Control your weight.
Follow a balanced diet.
Stay hydrated.
Monitor your cholesterol levels.
If you choose to imbibe, drink alcohol in moderation.
If you're a smoker, quit smoking.
Get a basic physical exam every year.
Know your family's medical history, especially as it relates to kidney disease, high blood pressure, cardiovascular disease, and diabetes.
Moreover, the NKF offers a guide, called the "7 Golden Rules of Prevention," to help keep you on track and lower your chances of developing kidney disease.
Get the latest information on CKD, including new research and treatments, on Responsum for CKD to share throughout National Kidney Month 2021—and beyond! Sign up today.