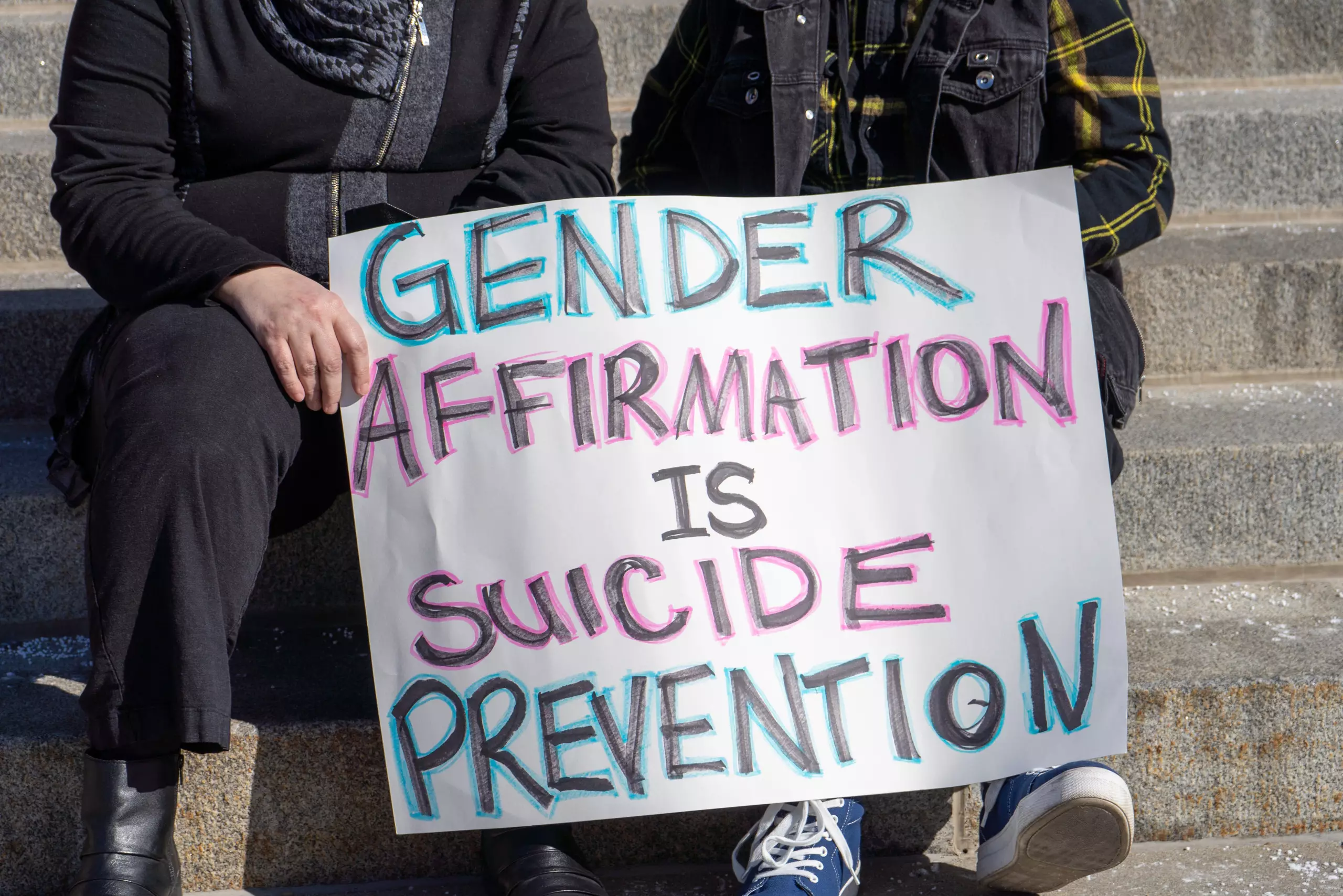 Healthcare and the LGBTQIA2S+ Community
At Responsum Health, we believe that everyone deserves access to the best healthcare, regardless of their condition, sex, gender identity, race, ancestry, religion,  socioeconomic status, disability, sexual orientation, or politics.
It would be disingenuous this Pride Month to ignore the onslaught of increasing violent acts such as individual beatings, murders, and targeted mass shootings, as well as discriminatory legislation across the United States against the LGBTQ+ community—in education, in all facets of public life, and in the area of healthcare, all with catastrophic results. As of March 3 of this year, at least 385 anti-LGBTQ bills had been introduced at the state level in a majority of U.S. states, which is more than were collectively proposed in the last five years. 
Ignorance and confusion regarding gender-affirming care
The discrimination falls hardest on people in the trans community. Following closely on the heels of the bans against performing gender-affirming care services for youth, came bills and laws restricting the same care for adults. The battles, for that's what they are, between those seeking to pass and implement these laws, and those seeking to maintain and improve individual sovereignty, are ongoing. 
There appears to be quite a bit of ignorance and confusion concerning what gender-affirming care actually consists of and how it benefits both individuals and the larger community, though copious scientific data are available supporting the safety, efficacy, and benefits of that care. Ignorance and confusion are also not a valid basis for legislation that takes decisions concerning personal healthcare and bodily autonomy out of the hands of the very people who are dramatically impacted by those decisions both immediately and long-term. 
UCLA Health and the World Health Organization (WHO) define gender-affirming care as encompassing "a range of social, psychological, behavioral and medical interventions that are designed to support and affirm a person's gender identity when it conflicts with the gender they were assigned at birth."
Johns Hopkins outlines a variety of therapies that can be involved in gender-affirming care, including, but not limited to:
Hormone therapy

Genital reconstruction

Breast reconstruction

Facial plastic surgery

Speech therapy

Urologic services

Psychiatric services

Primary care

Gender-affirming care saves lives
According to the Department of Health and Human Services, research shows that gender-affirming care improves the mental health and overall well-being of gender diverse youth. Transgender and gender nonbinary adolescents are at increased risk for mental health issues, substance use, and suicide. 
The Trevor Project's 2022 National Survey on LGBTQ Youth Mental Health found that:
Two-thirds of transgender and nonbinary youth reported symptoms of depression, 

Over 50% seriously considered suicide, and 

Approximately one in five took the step of attempting suicide. 
A safe and supportive healthcare environment is crucial for achieving better outcomes.
According to the University of Washington, a study published in JAMA Network Open shows that access to puberty blockers and gender-affirming hormone therapy for youth ages 13 to 20 was associated with:
60% lower odds of moderate to severe depression, and 

73% lower odds of self-harm or suicidal thoughts compared to children and adolescents who did not receive the therapy over the course of a year. 
The above findings are in alignment with, and supported by, significant professional medical organizations, including the Endocrine Society, the World Professional Association for Transgender Health and the American Academy of Pediatrics.
"The gender-affirming model of care," writes the Columbia University Department of Psychiatry, "affirms diversity in gender identity and assists individuals in defining, exploring, and actualizing their gender identity, allowing for exploration without judgments or assumptions. This does not mean that all youth need to undergo medical transition; indeed, this is often not the case. Gender-affirming care is highly individualized and focuses on the needs of each individual by including psychoeducation about gender and sexuality (appropriate to age and developmental level), parental and family support, social interventions, and gender-affirming medical interventions."
In fact, they say, medical procedures such as chest surgery, while less frequent than other forms of care, are generally performed for "older adolescents who have shown a consistent and persistent gender identity, are stable with respect to their mental health, and have parental support. These decisions are made by a multidisciplinary team of medical experts in conjunction with the adolescent and their parents."
In addition, a 2022 study published in PLOS ONE demonstrated that the benefits of gender-affirming care are also dependent on timeliness. For trans adults, having access to gender-affirming care during their adolescence was linked to lower odds of suicidal ideation, as opposed to beginning that care in adulthood.
State-supported refusal to provide medical care to LGBTQ+ patients
Along with denying transgender youth and adults both physical and psychological care, several states have also passed laws allowing doctors, nurses, and other medical and healthcare professionals to deny health services to any member of the LGBTQ+ community with impunity.
Effective July 1, 2023, Florida will join states such as Alabama, Arkansas, Illinois, Mississippi, Ohio, South Carolina, and Tennessee, in enabling healthcare providers to decline services to anyone on the basis of "religious or moral objections"—a phrase that lends itself to broad interpretation that extends to anyone they don't like or whose beliefs they don't share. 
This is state-sanctioned discrimination in matters of life and death, with potential widespread impacts, and not just for gay, trans, queer, and nonbinary individuals—though these laws affect them most immediately, and serve to compound existing systemic homophobia and racism in healthcare nationwide.
Extended consequences of these laws are also being felt in all arenas of the healthcare industry, by corporations and nonprofits, by educational and research institutions, and by legislative and judicial councils.
On June 6, the president of the Human Rights Campaign, the largest LGBTQ advocacy organization in the United States, declared a national emergency for LGBTQ+ Americans, going beyond the issuance of travel advisories, to offer help and guidance to those who live in U.S. states that are openly hostile to their LGBTQ+ citizens. 
A healthy country is made up of healthy individuals living, working, playing, and learning within healthy communities and systems that support and promote optimal care, productivity, contentment, and wellbeing for all. 
There are many individuals and organizations working hard to counter the harm ensuing from the new legislation, but as the situation currently stands, a significant portion of the U.S. is swiftly heading in the wrong direction, to the detriment of all.